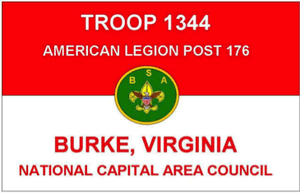 The American Legion Post 176 provides Boy Scout Troop 1344 with space to store their trailer. The Scouts, who meet at a local church, have 17 Scouts. This year, the Post gave $750 worth of material from Home Depot to assist with an Eagle Scout Project. There are four boys at the Life Scout rank, one of which are on schedule to achieve Eagle Scout in the near future.  The scouts work closely with the Post whenever possible, and over this past membership year have assisted with Post cleanup activities and Bridge Walk.
Boy Scout Troop 1344 from Burke, Virginia was chartered in the Patriot District of the National Capital Area Council on Veteran's Day, November 11, 2005 and is sponsored by the American Legion Post 176 in Springfield, Virginia now over eight years. They camp frequently during the year and attend summer camp. Scouts enjoy outdoor activities like camping and hiking. In addition to camaraderie and leadership, the boys learn and practice outdoor skills like camping, cooking, and orienteering on these trips. The troop has a wide range of equipment including tents, stoves, and other cooking gear for troop and patrols. In addition to camping, youth leaders plan varied activities and destinations each year. Other activities have included:
◾Canoeing and Kayaking
◾Whitewater Rafting
◾Hiking
◾Backpacking
◾Biking
◾Scuba Diving
◾Skiing
◾Climbing
◾Shooting
Meetings: During Cherry Run's Renovation, the troop's new meeting location is at Burke United Methodist Church, at Burke Center Parkway, and Burke Lake Road
Troop meetings are held on every Monday night except school holidays, 7:00 to 8:30 p.m. at Cherry Run Elementary School in Burke, VA. The school is located at 9732 Ironmaster Drive, Burke, VA. http://www.troop1344.org/
The troop meets every other week in the months of July and August.